The Angular Field Guide: Survival training on Angular 7, TypeScript, and RxJS.
09:00 AM - 05:00 PM
Coding/Programming
Women in Tech
Description
Join this three-day interactive workshop in downtown Chicago to learn Angular, TypeScript, and RxJS! This workshop is perfect for those wanting to move from AngularJS to Angular, or those needing to learn Angular from the ground up. This workshop contains three à la carte sections: TypeScript, Angular, and RxJS.
Training Content

The TypeScript training will cover fundamental knowledge about the language and how to be productive as an Angular developer using it.

The Angular training will explain Angular fundamentals with hands-on learning exercises to ultimately build, unit test, and deploy a working Angular app in version 7 of Angular.

This section of the training has attendees building a restaurant ordering app and covers topics like using the Angular CLI, building components, creating routing & navigation, creating services to make get requests, using reactive forms, writing unit tests, utilizing web sockets, and deploying a production build of the app. You can preview a working version of the app here: http://www.place-my-order.com/ and a preview of the workshop outline here: https://www.bitovi.com/academy/learn-angular.html

The RxJS training will cover foundational reactive programming concepts and how to use RxJS subjects, observables, operators, and more.
Training Prep
This is an interactive workshop, to be successful you will need to bring your wifi-enabled laptop, power cord, and anything else you need to be productive. To minimize setup time during training, please try to have these installed before the session:
- NodeJS
- Github CLI
- Your commandline tool of choice
- Your IDE of choice, or see our recommendations here for Angular developers.
Spots are limited to 24 attendees, so please only register if you are able to attend! If you are unable to attend and your workplace has an interest in bringing this training to your team please reach out to [email protected]
Need help getting your company to cover this training? Send them this cover letter!
If you are a student or don't have an employer to cover costs, please email us about scholarship options!
=======
About the Instructors
Jennifer Wadella has been writing code since before she realized it was a credible career path. She currently works as a JavaScript Consultant at Bitovi and loves building performant web applications, speaking at technical conferences, and brewing kombucha. Jennifer is an international and keynote speaker known for delivering fun and engaging talks with immediately executable strategies, and was most recently featured at NG-Conf for her talk on building cleaner forms with the Control Value Accessor.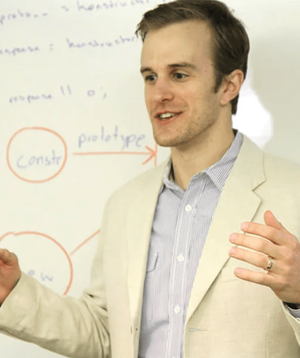 Justin Meyer is a contributor to CanJS (a web app framework), StealJS (a module loader) and DoneJS (a kitchen sink). He's also the CEO of Bitovi (a web consultancy). As a writer of autobiographical blurbs, he knows to use his two children, love of history books, and hobbies like running to make him appear more human. But is he really ...